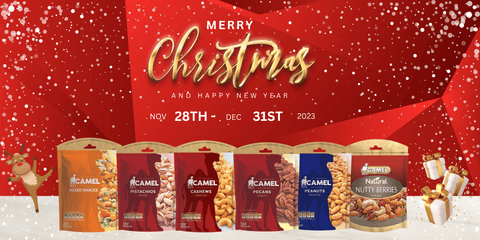 BOX A ✨
Our top favorite picks contains our top favorite picks of nuts, packed with flavor and nutrition. A great gift or treat for any festive occasion.
BOX B 🎅
Give your loved ones a special holiday treat with our Christmas Box B. Enjoy natural, artisan-crafted baked goods made with the finest ingredients.
These delicious snack options provide significant amounts of essential minerals, protein, and fiber.
Enjoy the health benefits without compromising on flavor!
BOX C 🎁
Our party pack contains a variety of party pack nuts, perfect for any holiday celebration.
Enjoy an assortment of roasted, salted, and seasoned nuts, without the hassle of picking and choosing individual flavors.
Frequently asked question
You are able to order this Christmas box in our Shopify or email to us at: camel@camelnuts.com
Can I have this item by this specific date?
We would need to check it with our logistic team regarding on a specific shipping date that you preferred.
Can I have specific timings for the delivery?
Our sincere apology that we are not able to deliver your goods at your preferred specific timing.
Can I customize the box with a mini message?
Yes, you may leave your mini request under the "order instructions" after you have cart out your items!
May I chose for self-collection?
Certainly, you may opt for self-collection!